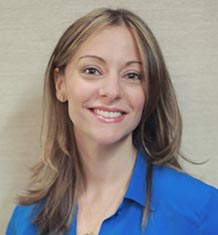 Justine M. Roth, MS, RD, CEDS is an experienced Registered Dietitian, specializing in the treatment of eating disorders, medical nutrition therapy, and general nutrition counseling. She employs a non-diet, mindful eating approach to help with a variety of medical and emotional issues surrounding food and wellness for all ages. 
My Philosophy
My founding principle is rooted in the belief that being healthy does not require dieting or deprivation. We will work towards creating a healthy relationship with food by normalizing eating behaviors and developing the skills to make mindful decisions about food and your body. "Food is such an important part of out lives but the meal choices we make each day should not be stressful. What you eat does not define who you are as a person. No food is good or bad and either are you for eating it!" 
Education
Justine earned her bachelor's degree in Nutrition and Dietetics from the University of Delaware and completed her dietetic internship at the College of St. Elizabeth in New Jersey. In 2007 she furthered her studies and obtained a Masters degree in Nutrition Education from Teachers College, Columbia University.
Career history and experience
In addition to private counseling, Justine is the director of the nutrition department at the New York State Psychiatric Institute, an in-patient hospital affiliated with Columbia University Medical Center. She is an active member within a dynamic multidisciplinary team for the treatment of eating disorders, depression, and other psychiatric illnesses. 

Before opening her private practice Justine was also the registered dietitian for the Columbia East Side Intensive Outpatient program. She developed the nutritional component for group counseling and therapeutic meals for those suffering from Anorexia Nervosa, Bulimia Nervosa, and Binge Eating Disorder. 

Justine resides in New York City where she enjoys exploring the city, reading, and dreaming of one day having a much bigger kitchen to continue cooking new and delicious foods!
Licenses, Certifications, Accreditations: 
Registered Dietitian, American Dietetic Association Commission on Dietetic Registration New York State Certified Dietitian-Nutritionist, Certified Eating Disorder Specialist- Supervisor. 
Professional Affiliations:
Academy of Nutrition and Dietetics 
Nutrition Entrepreneurs Dietetic Practice Group
Behavioral Health Nutrition Dietetic Practice Group 
Greater New York Dietetic Association
International Association of Eating Disorder Professionals