Sunday Meatballs and "Gravy"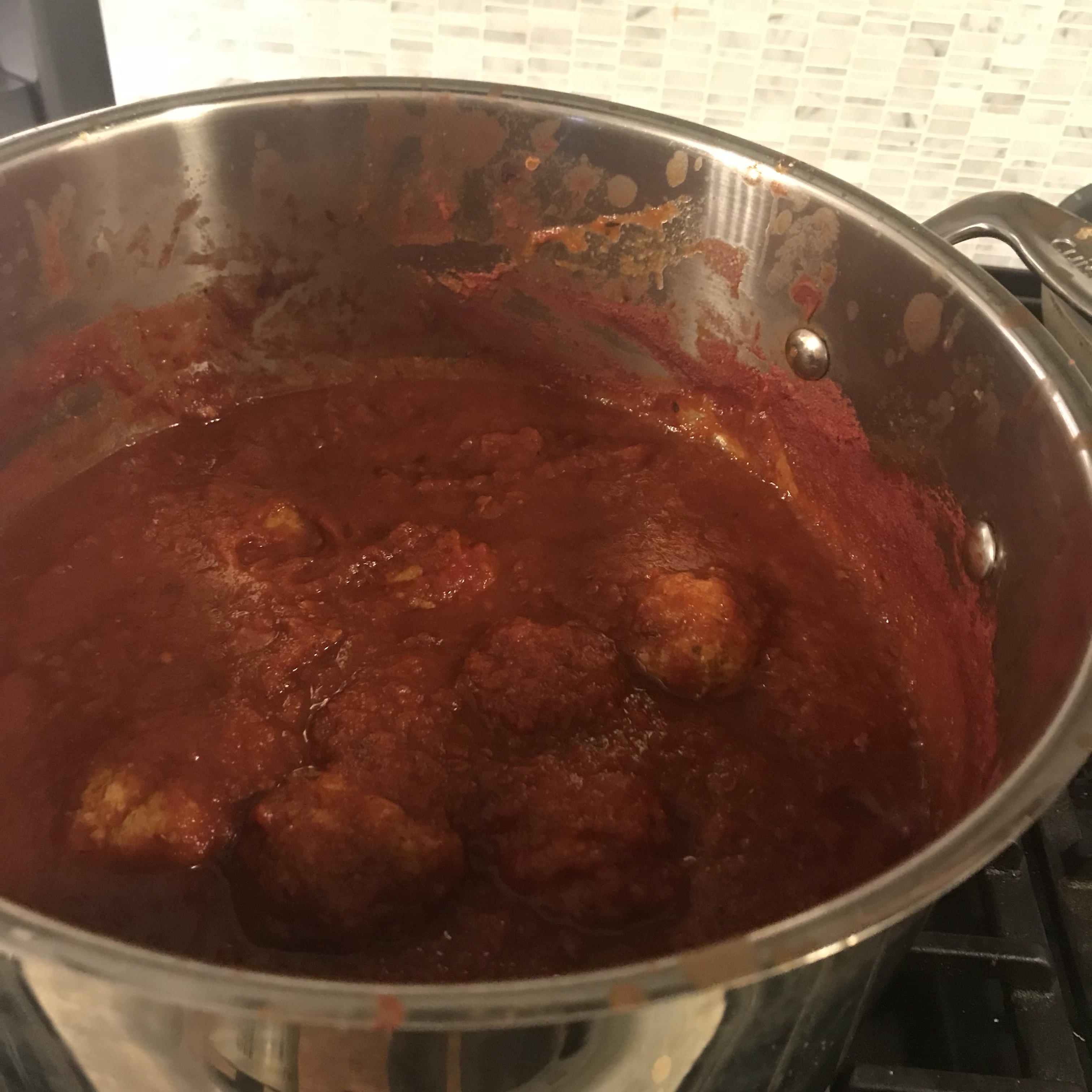 In my house growing up Sunday dinner never varied, it was always macaroni and meatballs. The "gravy" and meatballs were made from scratch (sort of, we cheated and use canned tomatoes) and the macaroni was whatever pasta we wanted as long as we didn't call it "noodles." My brothers and I would help roll the meatballs and take turns throwing them at the ceiling when my Mom or Dad weren't looking. In retrospect I now realize that was pretty gross but nonetheless the meatballs always came out amazing as did the gravy.
The week before Thanksgiving my daughter's kindergarten class was hosting a "Family Feast Day"  where everyone was encouraged to bring in their favorite family recipes.  There is no question meatballs are my favorite thing to make, especially to share with others so that is what I signed up for.  I hadn't really thought through the fact that hosting Thanksgiving and whipping up enough meatballs to feed 40 people would possibly be a little stressful but luckily I had some help!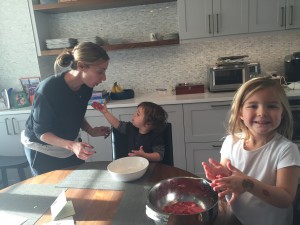 I have never used turkey meat for my meatballs as I have an aversion to anything that I think should be beef but doesn't taste like it when I bite in to it. Unfortunately the line for the butcher was way too long and there were plenty of ground turkey packs available so turkey meatballs would have to do. We always used Tutorosso for our gravy but I was limited to the two types of crushed tomatoes Whole Foods carried so just grabbed whatever looked good. Next was the tomato paste, breadcrumbs, and grated romano cheese and I was at the 10 or less item line and ready to get home.
Once home I poured the crushed tomatoes in to the pot, filling each up with water and adding that as well. This was a trick my Mom taught me as she never really had an exact amount of water she added and often added more along the way if it looked too thick. Next was the tomato paste, which if anyone has tried to open up a can of tomato paste you know that it is pretty challenging to get all of the paste out. So after 20 years or so of making this I decided I would open up both ends of the can and see if that helped. The paste slid out in tact and with ease (did I just develop a "hack"?) which saved me a few minutes of scraping. I added all of the seasonings and put it on the stove to start heating up.
The kids and I got to work on the meatballs and since my daughter is way more meticulous then I am they came out beautifully round and smooth. Some recipes add milk to the meatballs, we have never done this as my Mom once said "there is something about adding milk to chopped meat that just seems wrong!" and it just stuck with me.
I have yet to figure out a good way of adding these to the pot with out the hot sauce splattering everywhere so if you know of one please share! (Note: its not really "gravy" until the meatballs have been cooked in it so that is why I naturally wrote sauce there!"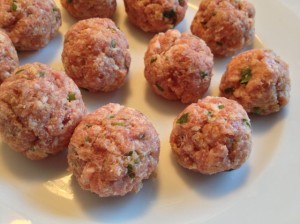 About 3 hours later and a lot of stirring the gravy was ready and the meatballs were done! The truth is the meatballs cook rather quickly in the sauce but it is the sitting there for all of those hours on a low heat that makes the gravy taste amazing and the meat soak up all of the yummy flavors in the pot.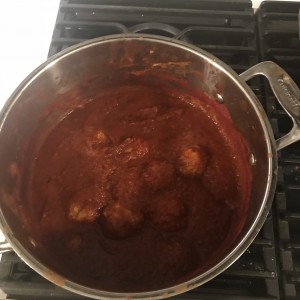 I was a little nervous the turkey wouldn't come out as good as the regular meatballs but none of the children or families seemed to mind as they were all eaten when I checked about half way through the feast.
I have shared this recipe a few times over the years and I think everyone adds a little bit of their own "feel" to it to make it their own. Either way I love recreating our Sunday Meatballs and Gravy tradition any chance I can with my family, even if it is on a Monday night slightly rushed before bedtime!
The Gravy:
2- 28 ounce cans of crushed tomatoes
4- 6 ounce cans of tomato paste
Enough water to fill the cans and additional if needed through out cooking (if it is too thick)
Seasonings: this is where you can get creative but this is what we use:
1 Tbsp of each: garlic powder, onion powder, basil, oregano
Additional "Italian seasoning" if desired
Salt and pepper to taste (about 2 tsps each and add more later if needed)
Instructions:
Add all of the ingredients in to a pot and bring to a low boil. Once the meatballs are added bring to a high simmer, and stir every 20 minutes or so. If it is starting to boil up too much you can lower it to the lowest setting of simmer.
The Meatballs:
2 pounds chopped meat (any desired, but the higher fat contents will make the gravy more "oily" so less water might be needed)
2 eggs
2 tsps each: garlic powder, onion powder, Italian seasoning
1 tsp basil
2 tsp of salt
1 tsp pepper
2 Tbsp grated Romano cheese (can be Parmesan too)
1/2 cup bread crumbs (you may need to add more if mixture seems to loose and won't form a solid meatball but we prefer softer meatballs in my family so start with less and add if needed)
Instructions:
Mix ingredients with your hands and form in to desired size meatballs. Ours are usually about 1 inch in diameter. Place in the pot of sauce and cook for approximately 2-3 hours.
You will have a lot of extra gravy so freeze it in smaller containers as regular pasta sauce whenever you want it!